Youth Programs

Monthly calendars for all programs are available at the library. 
Like us on Facebook Waldport Public Library Youth Programs to stay up to date on all the happenings. 
Subscribe to the Waldport Public Library YouTube channel.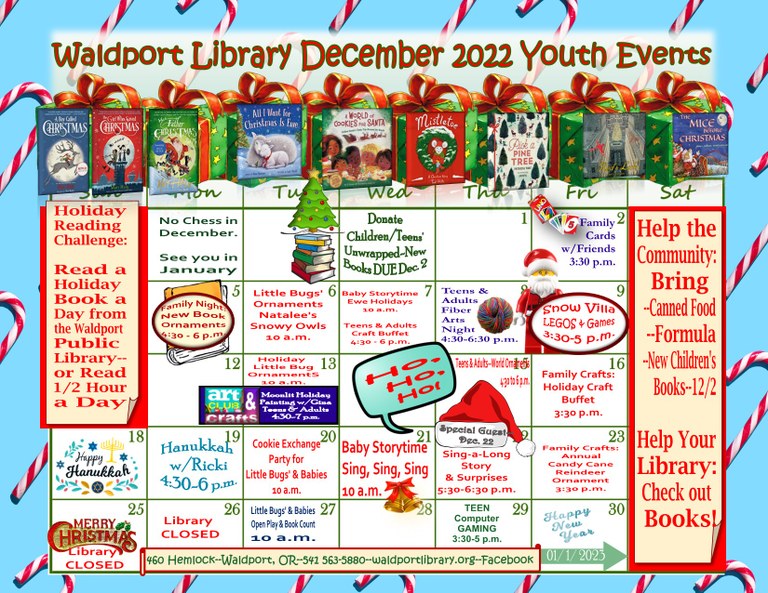 Monthly calendars for all programs are available at the library.
December Youth Programs: 
Teen & Adult Art & Craft Club, 4:30-6:300 pm
December 7- 

We are cleaning out our closets.  Missed a craft that you wanted to learn.  Here is your chance.  Everyone will choose which craft they would like to work on that night.   Sign-up at the library.

December 13 - 

Moonlit Holiday Painting with Gina

December 15 -

 We will make ornaments from around the world.  Sign-up at the library.
Teen Computer/Console Gaming 
December 29, 3:30 p.m.-5:00 p.m.

Join in on some Computer Gaming fun learning the basics of computer gaming.  We are also hoping to have a Wii game to play also eventually.
3D Teen & Adult Open Printer Lab, 4-6 pm Teen & adults  
No lab this month but if you have something you would like to have printed, stop by and we can print it for you. 
Teen & Adults' Fiber Arts Night, 4:30-6:30 pm.  
December 8 -

Bring your fiber project to work on and share tips, and conversations with others.
Chess Club, Mondays, 3:30- 4:30 p.m. for second-grade through high school youth. Meet coach Scott Bradley and learn to play chess.
No chess club this month.  It will be back in January.
LEGO Challenge, Board & Card Games, Friday, 3:30-5 p.m.
Young Writers' Club, 4:00-5:00 pm, - 
No writers' club in December.  See you in January.
Family Crafts, 3:30-5:00 pm. -
December 16 - 

Holiday Craft Buffet

December 23 - 

Candy Cane Reindeer Ornament
Hanukkah with Ricki, December 19, 4:30-6:00 pm.
Sing-a-Long Story & Surprises, December 22, 5:30-6:30 pm. - Special Guest.
Little Bugs' Club, Tuesdays at 10 a.m.- Preschool to second grade. Crafts, Music, Reading, Skills, and Friends.
December 6 -

Ornaments.  Natalee's Snowy Owls

December 13 - 

Holiday ornaments

December 20 -

Cookie Exchange Party

December 27 -

Open Play & Book Count
Baby Storytime Wednesdays, 10 a.m. Families with babies through toddlers - Theatre, Nursery Rhymes, Music, Dance, Place, and Early Childhood Skills.
December 7 - 

Ewe Holidays

December 21 -

Sing, Sing, Sing
.