About Us
Waldport Public Library, a community library since 1919 serving South Lincoln County, is a department of the City of Waldport, Oregon.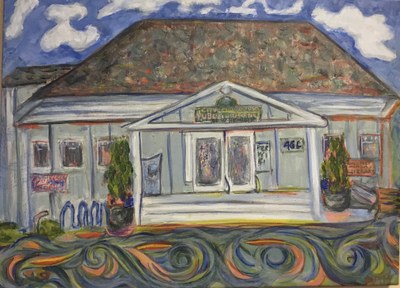 Painting of the Waldport Public Library by Gretchen Armstrong 
Our Mission:
The mission of the Waldport Public Library is to provide diverse materials and services for community residents of all ages for personal enrichment, enjoyment and educational needs. We especially recognize our responsibility to serve as a place for children to discover the joy of reading and the value of libraries for life-long learning. Waldport City Hall .
You Can Contact Us At:
460 Hemlock (Hwy 34)
PO Box 1357
Waldport, OR  97394
Phone Number: 541-563-5880
Email: waldportlibrary@waldportlibrary.org
Library Director: Sue Bennett
Library Clerks: Pam Fodness, Barbara Fischer, Norman Klusman, and Sharon McCrum.