It's Youth ProgramsTime!! Join Us.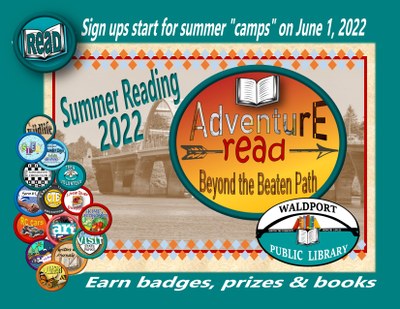 Subscribe to the Waldport Public Library YouTube channel.
Subscribe to the Waldport Public Library Facebook Youth Programs page. 
To join a Zoom program contact the Waldport Public Library for an official invite! Email and parental permission are necessary. Call library staff at 541-563-5880. Our email- waldportlibrary@waldportlibrary.org .
Month of May Youth Programs:
WPL Special Youth Events:
May is National Asian American and Pacific Islander Heritage Month!
Asian and Pacific American Heritage Month is a celebration of Asians and Pacific Islanders in the United States. A rather broad term, Asian/Pacific encompasses the Asian continent and the Pacific islands of Melanesia (New Guinea, New Caledonia, Vanuatu, Fiji, and the Solomon Islands), Micronesia (Marianas, Guam, Wake Island, Palau, Marshall Islands, Kiribati, Nauru and the Federated States of Micronesia) and Polynesia (New Zealand, Hawaiian Islands, Rotuma, Midway Islands, Samoa, American Samoa, Tonga, Tuvalu, Cook Islands, French Polynesia, and Easter Island).
Join us in celebrating National Asian American and Pacific Islander Heritage Month! Stop by the Waldport Public Library and check out a few books on Asian American and Pacific Islander heritage and culture.  Search our Chinook Library Network to find specific books and order them online. Library2Go also has available audio and eBooks on the above topic.
May 3 (3:30 pm): In Person, second grade through high school youth, Waldport Public Library Chess Club!  Meet coaches Scott Bradley and Lilli Arnold, play chess, learn about Chess Club and this summer's Chess Camp.  Sign up for club and camp at this informational meeting. 
May 7: Free Comic Book Day! Pick up a free comic book at the library, from 11 am.- 4 pm.  
May 16 (4-5 pm.): Learn to crochet at "Crochet Club with Sue and Danora." This every-other Monday group is for youth from fourth grade through high school. No cost: supplies provided.
May 18 (4- 5 pm.): Summer Reading Program 2022 is right around the corner.  Past teen volunteers and adult volunteers are invited to this planning meeting. 
May 20 (3:30): LEGO PROJECT for kids to teens.  We will supply the LEGOS, give a prompt, and participants will have 45 minutes for put together their model. 
May 23 (4 pm.): Art Club & Crafts for Adults and Teens.  This month Sue Bennett will teach the art of Kumihimo beading. No supplies needed. Sign up at the front desk.
May 26 (4 pm.): Waldport Library Young Writers' Group is meeting regarding this summer's Writers' with Journals Camp.  Elementary through High School writers meet with Sharon McCrum of Waldport Public Library and Liz Ulmer, Title I Specialist from Crestview Heights Elementary School to share their writing and learn skills. 
May 27 (4 pm.): New Teens interested in volunteering for the 2022 Summer Reading Program are invited to learn about what it takes to become a Summer Reading Program volunteer.  Fifth grade through high school youth should bring your summer schedules and calendars and parent/guardian to the meeting.  Applications will be available.
May 30: The library is Closed in observance of Memorial Day.
Take & Make Days:
Parents and children can pick up a Take & Make kit, from 10-5 pm. 
May 4: Youth pick up a "May the 4th Be With You" token.  Check out a Star Wars book or DVD.
May 5: Youth pick up a Cinco de Mayo souvenir.  Kids, check out our bilingual and Spanish books. 
May 6: Stop by and find a good read in our giveaway books, and something for Mom.
May 7: It's Free Comic Book Day. Stop by the front desk to pick out a classic-style comic book.  
Little Bugs' Story Time In-Person:
Little Bugs' Story Time for 2–5-year-old, 10 am.
Tuesday Little Bugs' Days:
May 3: Little Bugs' Day with Sharon McCrum. 
May 10: No Little Bugs' Club today.  Starting next week Little Bug's Club is switching to Little Bugs' Story Time on Tuesdays at 10 a.m. Storytelling, crafts, songs, and friends. For toddlers through six-year-olds. Families with a variety of ages are welcome.
May 17: Little Bugs' Story Time.  Toddlers through first grade (and their families) are welcome to come here stories, enjoy readers' theater, craft, and meet new friends. Sharon McCrum leads this group, but it will also have guest storytellers in upcoming months. Today's group will be led by Emily Linegar with the help of junior volunteer Natalee Linegar.
May 31: Little Bugs' Story Time with Sharon.  Let's kick off summer with summer stories, games, and outdoor chalk art (weather permitting).  This group is for toddlers through first grade and their families.
Baby Storytime In-Person: 
Baby Storytime Days:
May 24: Baby Storytime returns!  Families with babies through toddlers with their families will enjoying singing, reading, playing and friendships just for the littlest readers.
Waldport library drifters RC Car Club:
RC Car Club with Sue and John Bennett.  The club meets at the RC Car Track near Crestline and Hwy 34 unless weather is bad then the club meets at the Community Center. This group is for 4th through high school youth. Bring your own car or learn to run one of the club's vehicles.  Participants are expected to follow all directions from leaders. Call Sue for more information, 541-563-5880. 
RC Club Days: May 11 & 25 from 3:00 pm - 4:30 pm. 
.