Information Resources for Coronavirus (COVID-19)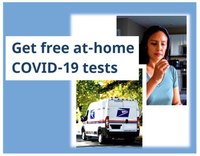 Do you have questions about the Coronavirus (COVID-19). Here are a few informational resources. 
Get Your Free at-home Covid Tests
Order your free at-home Covid tests here >>> Covidtests.gov
Every home in the U.S. is eligible to order 4 free at-⁠home COVID-⁠19 tests. The tests are completely free. Orders will usually ship in 7-12 days.
If you need a COVID-⁠19 test now, please see other testing resources for free testing locations in your area.
Oregon Health Authority (Public Health Division). 
Lincoln County Covid-19 Vaccination Schedule. 
Lincoln County Covid-19 Vaccine Waitlist.
Lincoln County of Oregon Health & Human Services. 
Safe Strong Oregon: Safe Strong Oregon website is a site with information on Covid19, Health Care, Food Resources, Mental Health, Utility Help, Housing, Resources for people with disabilities, and more. 
Centers for Disease Control and Prevention. 
PERSONAL PROTECTIVE EQUIPMENT DONATION SITES IN LINCOLN COUNTY
Donation Site Drop Off Locations
Due to the nationwide shortage in Personal Protective Equipment (PPE) supplies, Lincoln County Sheriff's Office – Emergency Management is coordinating PPE donation sites. We are asking local and regional businesses and non-healthcare industries, including construction, dental, veterinary, manufacturing, breweries, mining, logging, fisheries, etc. to donate their PPE.
All donated supplies will be redistributed to our most vulnerable healthcare partners who are on the front lines, testing the public for COVID-19. Donators will receive a donation letter that can be used for a tax deduction. If you require PPE for your own personal healthcare, please save those supplies for your use.