November Art Club Teens and Adults
November Art Club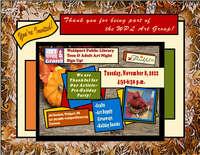 "Thank You" is the main emphasis of this email.  November is right around the corner, and a great time to express appreciation.  The staff of the Waldport Public Library want to express our appreciation of this art group.  You bring a level of joy to the Waldport Public Library that is so necessary.  Your support and willingness to try new things and meet new friends is impressive.
To express our gratitude, we are having an Art Party on Tuesday, Nov. 8 from 4:30 to 6:30 p.m. in honor of each of you.  We will have craft and art opportunities along with Books, Art Supplies, and Kit Giveaways.  I will be going through our supplies and making some interesting things available for all of you.  And, we will have pre-holiday snacks!  It will also be a time to sign up for our December art opportunities!
Please sign up at the desk, or let me know if you will be there.  I want to make this a special evening for some very special people.